Name: Ember Tavolk
Age:18
Gender: Female
Sexuality: Heterosexual
Species (human, elf, etc.): Human
World of Origin: Earth
Country of Origin: Kingdom of Majorca
Place of Birth: Balearic Islands in 1324
Race: Majorcanian
Skin color: Ember has fairly dark skin, the shades you would see in Saudi Arabian people
Hair color: Chocolate Brown
Eye color: Moss Green
Height: 5ft 8"
Weight: 145 lbs
Body type: Ember has a lean muscular build seeing as she use to be part of the Majorcanian Army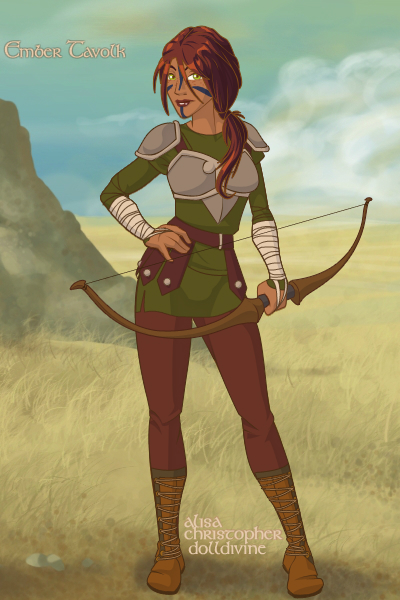 God Parent: N/A (Ember just has Norse blood in her)
Mortal Parent: Unknown. Ember was drafted at a young age and has little memories of her family
Personality: Ember is a quiet and reserved person. She gets lost in her thoughts often and is quite jumpy. When Ember does speak it is with a heavy accent that is a mix between Arabic and Spanish. Ember is very territorial. This behaviour came from when she was alive, sharing barracks with up to 50 other people meant you had to stand your ground in a fight, whether it was just words or physical.
Talents: She can speak multiple languages(Spanish, French, English, and Arabic), and she is deadly skilled with a bow and arrows.
Flaws (at least three): Ember has a fear of Fire, she only uses a small well contained one for cooking. She has terrible social skills. Another flaw of Ember is that she is terrible with modern technology.
Weapon (Nordic steel): A bow made of birch that has runes carved into it. Nordic steel tipped arrows
Abilities: Quick reflexes, and good aim
Powers: N/A
History: Ember was born in the Balearic Islands, she was the only child to a poor peasant couple.  During Ember's childhood years the Islands were ruled by france, yet they were struggling to keep the islands. In order to boost their man power the king, James III, drafted anyone over the age 10, yes he drafted ten-year-olds but he himself was only a child. Ember was taken away from the islands and shipped to the mainland where she vigorously trained. Ember was never put out onto the field until she turned 15. Three years later she faced a challenge on the battlefield, the one that ended her life and sent her to Valhalla.  As an archer she never had to do hand-to-hand combat, that was the knight's job. Unfortunately, the General had miscalculated Spain's plan of attack. They showed up behind the army and attacked the archers first. Ember had been shot by an arrow while protecting an injured comrade.  
RP Sample (required for first form):(Modern Time, Valhalla) Ember crouched in the tall grass, an arrow nocked in the dip of her bow. She waited carefully, listening for any signs of other einherjar. Ember always took the war games very seriously, in fact fighting has always just been a part of her life. She doesn't like or dislike it, it's just something she does just like a mortal would walk their dog or do the dishes. A rustle in the grass indicated movement. Ember spun on her heel only to be tackled by another einherjar, and a knife was pressed against her throat. In order to avoid certain decapitation Ember grabbed hold of the knife, it cut her hand but she was able to escape death. In one swift movement she stabbed the arrow into the attacker's ear giving him a quick death. Before she could revel in the glory of her kill an axe came flying towards her and embedded itself in her side. She let out a cry of pain, "You idiot! We are on the same floor!" Her floormate shrugged and said, "Hey, it's free-for-all Friday." Ember collapsed onto the ground, she was losing too much blood. Her floormate looked down on her, in one fluid motion reclaimed his axe from her liver and continued back into battle. Ember's eyes fluttered shut. When she awoke she was back in her room, a barbaric looking place. It consisted of three rooms, the living room/kitchen, a somewhat modernized bathroom, and her bedroom. Each room had the same theme, wood furniture and animal skins and furs.
Notes: The reason Ember has Norse blood is because her grandparents were originally from Nordic lands
Weaknesses: Ember falters most when it comes to social situations. Secondly to being awkward she hates being bossed around and has difficulty respecting authority
Pets: N/A
Likes: Hunting, weaving tapestries/clothes/blankets, archery, and being alone
Dislikes: Public speaking, people who show off, modern technology, and being told what to do
Hobbies: Weaving, sewing, hunting, and leather
working
Dream job: To make leather things for a living    
What do they want the most in life right now?: To have a friend who knows what the hell personal space is.
Secrets: Once tried to kill a hall mate in his sleep only to remember that he would be resurrected in the morning
Worst fear: Fire (Mostly because in her time if a fire wasn't being closely watched it could burn down entire villages)
Ideal boyfriend/girlfriend:
Insecurities:
Former/current relationships:N/A
How parents met:
Time in camp (Greeks)/the Legion (Romans)/Hotel Valhalla (Norse): To fit her DOB and day she died it would be 674 years spent in Valhalla