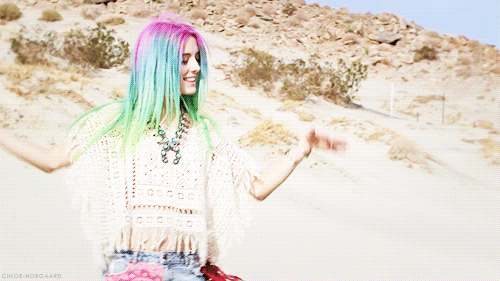 Name: Angel Roxanne King
Age: 19
Gender: Female
Sexuality: Heterosexual
fc// (if there's one):
Chloe Norgaard
Country of Origin: England
Place of Birth (Olympus, city or town): Thaxted, Essex
Race: Caucasian
Skin color: White
Hair color: Purple, blue and green hair falls to her shoulders.
Eye color: Brown
Height: 5'5"
Weight: 120 pounds
Body type: Straight
God Parent: Set
Mortal Parent: Jennifer King
Personality:
•impulsive
•relaxed and doesn't care what people think
•free spirited
•tomboyish
•not much of a fighter
Talents:
•drawing
•sculpting
•songwriting
Flaws (at least three):
•not good at fighting
•proud
•big ego
Weapon (Celestial bronze/Imperial gold/Egyptian bronze): Egyptian bronze haladie
Abilities:
None
Powers:
•Can create small storms that last for 6 posts. It takes 10 posts to recharge.
History: Angel grew up in a small town in England. Growing up, she was horrible in school. Angel was raised by her single mother, who often wished Angel was more obedient. The girl would do as she pleased, ignoring the consequences. When she was 4, she developed a rare form of child leukemia. After months in the hospital, she recovered, and hardly remembers the incident. Angel was in plenty of trouble when she failed the fourth grade. Jennifer and Angel never had a good relationship, and always fought. Angel's mother knew she could get good grades if she tried harder. Jennifer, who knew Angels true identity, decided to send her to the Brooklyn House, where she has lived ever since.
RP Sample (required for first form): -
Notes: Nothing.
Weaknesses:
physically weak
not a very good fighter
afraid of death
Pets: A fat orange cat named "Knud." (It's not exactly a good looking cat.)
Likes:
to be independant
funny jokes
popping bubble wrap
music
Dislikes:
reading
selfish people
the sound of people click pens
Hobbies:
art
songwriting/music
Dream job: Musician
What do they want the most in life right now?: Go skydiving
Secrets: She's bipolar, but she doesn't tell people. (Bipolar depression and mania.) Angel also doesn't share that she is a leukemia survivor.
Worst fear: Dying.
Ideal boyfriend/girlfriend: Someone who respects her opinions and independence.
Insecurities: Because of bipolar depression, Angel sometimes get depressed and thinks she is ugly, and dumb. Angel keeps this to herself though, and doesn't change her behavior.
Former/current relationships: None.
How parents met: Jennifer King was raised in a small, yet quaint cottage that she would later raise Angel in. At age 18, Jennifer set off to Egypt to search for a Pharaoh's tomb. A sandstorm that Set caused struck. Set heard Jennifer's calls for help, rescued her and you can use your imagination from here.
Time in camp (Greeks)/the Legion (Romans)/Hotel Valhalla (Norse)/Brooklyn House (Egyptians): 8 years