Name:
Peter Theodore Malcolm
Age:
22
Gender:
Male
Sexuality:
Pansexual
fc// (if there's one):
Jesse Williams
Country of Origin:
United Kingdom
Place of Birth:
St Joseph Hospital, London
Race:
Biracial (Half Black, Half White)
Skin color:
Light Brown
Hair color:
Black
Eye color:
Green
Height:
5'8
Weight:
140 lbs
Body type:
Ectomorph
Legacy of:
Neptune (via his father), Ceres  (via his mother)
Parents:
Spoiler:
Laura Angeline Malcolm- Daughter of Demeter/Ceres
Laura is a woman in her mid-forties who is of African American heritage but has lived most of her life in Great Britain. As such she acts and speaks with the same demeanor as any other British person. She arrived to Camp Jupiter when she was 16, having been forcefully brought there due to a variety of unfortunate circumstances which would leave her parentless.
She was claimed the moment she stepped foot into the Camp and struggled  to get adjusted to the new environment, although with the aide of Alastair she was able to make the full transaction and latter settle down in New Rome. Although her son would be born, rather riskily, in his parents homeland.
Spoiler:
Alastair Dunbrock Malcolm- Son of Neptune
Alastair is a Scottish man through and through. From the accent to his habit of eating Scottish treats and speaking Gaelic. He is a very perky and jovial personage and because of this it is rather difficult for people to imagine him being the son of Neptune, but that doesn't mean he doesn't share similar temperament to his old man.
He came to Camp Half-blood at the age of 15,  3 years before his future wife, the reason is still a mystery to this day but the fact that he has no family to return to implies that it was a tragedy. To honour his and his wife's heritage, all three of their children were born in the United Kingdom rather than in Camp Jupiter. All three occurrences we're high risk, but they were determined, and they exceeded.
Personality:
Peter is sarcasm in human form. He's very confrontational and stubborn individual and ferociously independent to the point where he doesn't like asking for help, although if someone offered it he wouldn't deny their assistance, however he is a very carefree and social being despite his harsh criticism of others, be it his friends, acquaintances, or enemies.
His personality has been molded by the overbearing nature of his parents who sheltered him especially when he was younger due to his blindness and the fact that he was the youngest of the three brothers.  Even when his seismic sense developed they barred him from joining any activities they deemed too dangerous until he was in his mid-teens, of course he would train in secret and learned to develop his abilities above beyond anything anyone could anticipate. Always having a need to prove himself meant that he became more hostile towards people who belittle him or tried to pity him for his blindness.
Talents:
Agile: He's very quick on his feet, and is most definitely one of the faster people at the Brooklyn House.
Skill fighter: He's skilled at fighting hand-to-hand and moves with the fluent movement and flexibility of a master gymnast.
Flaws (at least three):
-He's Blind and his Seismic Sense has it's limits to what it can allow him to "see" i.e he can't see things that aren't touching the ground and has no concept of colour.
- He hates large bodies of water and being stuck in moving vehicles for prolong periods of time.
- He's brash…. very Brash
He unable to use his seismic sense standing on sandy or wet surfaces
He is unable to use his truth seeking abilities when standing on sandy or wet surfaces
Individuals who are capable of maintaining the subtle differences when they lie can easily deceive him
Weapon (Celestial bronze/Imperial gold): None
Abilities: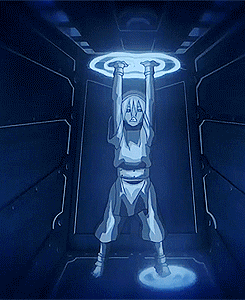 Seismic Sense: This enables him to detect vibrations in the ground to perceive objects, people, and other aspects of his environment, essentially acting as sonar, but through earth and metal.
Magnetization: He is capable of magnetizing their limbs to any type of stone, making wall-scaling simpler in the appropriate circumstances.
Living Lie detector: When a person lies their heart rate increases and they subtle exhibit internal behaviour. Using Seismic sense he can pick up on these subtle changes and can tell when someone is lying.
Powers:
Earthbending: Peter is able to bend the earth to his will. He needs to remain focus whilst earthbending or he will lose control and end up hurting himself or others. He can perform constant Earthbending moves for 5 posts, but afterwards needs 5 posts to regain the energy lost by doing so.
History:
Peter was born in the United Kingdom as the youngest son of Laura and Alistair Malcolm, month early underweight and blind. Due to this he was physically weak and especially incapable during his youth, which prompted his parents to permanently stay in Camp Jupiter for his own safety.
Growing up, Peter was sheltered by his parents because of his difficulties and was barred from doing things that most kids his age we're involved in. This lead him to run away for him briefly. During this time period in ran into an old man, who unknowingly was Neptune in disguised,  who watched over and guided the boy teaching him how to use the earth as a replacement for his eyes.
As Peter grew, his abilities grew with him, and while he may not be an official member of the legion on the request of his mother and father he does his best to be involved in whatever way he can.
RP Sample (required for first form):
Notes:
-He doesn't wear shoes, ever, he will fight you if you try to make him wear them.
-He's the only child out of the three to be born with Earth-related powers as well as the only one to be born without the ability to control water in any form.
-He can't bend metal