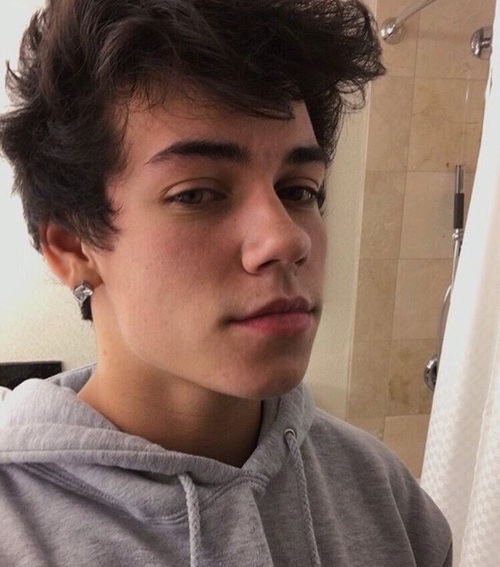 Name: Edwin "Ed" Peter Berg
Age: 17
Gender: Male
Sexuality: Bisexual
fc// (if there's one): Wesley Tucker
Country of Origin: Denmark
Place of Birth: Copenhagen, Denmark
Race: Half Danish
Skin color: Slight tan in the summers, other than that pretty pale
Hair color: Brown
Eye color: Varies from light green to grey, depends on the lighting and his mood
Height: 183 cm (5'9")
Weight: 156 lbs (71 kg)
Body type: Mesomorph
God Parent: Thanatos
Mortal Parent: Eva Berg
Personality: Edwin is ambiverted, which means that he likes human contact, but he comes tired after that and needs to recharge. He is rather mysterious and doesn't like to open up. He has trust issues especially with females. When you think you know him, he turns the tables again. If you do somehow crawl under his shell, you'll find an immature boy just trying to find himself.
He is very patient, but when the cup is turned, he gives you silent treatment and/or passive-aggressive answers. The boy is picky about his friends, but cares for the ones he has chosen and thinks of them as extended family. Edwin is driven by brains rather than heart, and thus is logical about situations. He has good self-control and rarely has mood swings. He's humor is sarcastic and witty.
Talents: Fast runner, skilled with little daggers, axes and hand-to-hand combat, can read sheet music and play the guitar, good at arts, fast reaction time, good dodging
Flaws: Absolutely horrible at cooking, forgetful, indecisive as he likes to please both parties, clumsy with heavy weapons like swords etc, secretive, big overthinker, afraid of high places, gets jealous easily if you touch his loved one
Weapon: Two 9 inch (25 cm) daggers made of celestial bronze, which turn in to two earrings.
Abilities: If he sees a dead body, he will immediately recognize who the person was and how he was killed.
Powers: Can summon dead spirits to protect or attack others. The more he summons, the more they drain energy from him. He can summon max. 4 spirits. If he does summon them all he becomes so weak he immediately falls asleep, which causes the spirits to roam around without instructions and commands.
Edwin can also Shadow travel and carry 3 people while he is doing it. The more he travels, the longer the cooling time. 10 miles takes 7 post to cool down.
History: Edwin was born in to a strongly Christian, more specific to a Protestant family. As if being a child born to unmarried parents was not enough, he was also a son of a Greek god. When his family found out this, he was quickly shunned over. His mother worked in two jobs and eventually started taking stress on him by verbally abusing him. This is the reason Edwin has issues to trust women. Edwin was rescued from his family when he was 12 by a satyr named Dot, who he never met afterwards being sent to CBH.
He liked school due to getting out from home, his friends who did not care about ADHD nor dyslexia, and the danish education system which granted him 'special treatment' because of his difficulties with reading and maths. He did show great skill in sports, geography and biology.
How parents met:
Edwin's mother was from a danish strongly Christian family. She always protested against her family, to the point where she had a child with a Greek god. Eva had a bubbly and positive personality which attracted the morbid Thanatos. Thanatos told her from the start that he was a Greek god. Eva quickly fell in love with him and had a child with him, partly to protest against her family. When Thanatos left them shortly after Edwin was born Eva changed
to worse.
Pets: A Bombay cat named Ven (means "friend" in Danish)
Likes: Shadow, silence, classical music, beer, metaphysics, Korean BBQ, smell of fresh cut grass, stars, magic, working with own hands such as craftsmanship
Dislikes: Limitations, dull conversations, loud noises, cooking, liver, unnecessary competition, dumb and careless people, arrogance, ambition, narrow-minded people
Hobbies: Creative swearing, biting his nails, origami, wood carving, sketching, composing, playing different instruments, especially the piano, cello and guitar
Former/current relationships: Zip, Nada, Nill, None
RP example: Edwin sat on the beach under a shadow. He pushed his toes further in the hot sand. "Why did I even agree coming here?" he murmured and wiped some sweat from his forehead. Edwin felt his pale skin burning in the sun. It was his fifth year at Camp Half Blood, but he never really got used to it. He reached for one of his favorite books, [i]The Little Match Girl[i] and started reading it, but found his hair being constantly in the way. Edwin pinned his hair with a hairpin and continued reading the rather bitter-sweet story.
Notes: Speaks fluent Danish, Slight Danish accent