Name: James Lemanski
Age: 15
Gender: James was originally born a male but goes by female, male, and androgynous (They/them) pronouns.
Sexuality: They aren't really sure yet.
Face Claim :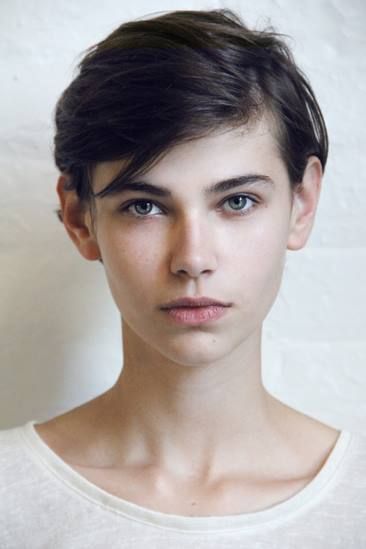 Country of Origin: Canada
Place of Birth (Olympus, city or town): Calgary, Alberta
Race: Canadian (Polish descent)
Skin color: A light tan colour
Hair color: Chestnut brown with hints of blonde and auburn
Eye color: Dull Green
Height: 5ft 4"
Weight: 115 lbs
Body type: Not any defined muscles but no excess fat either, just kind of in between
God Parent: Apollo
Mortal Parent: Amanda Lemanski
Personality: James is a bit eccentric at first, seeing as the behave as a typical boy would and they dress in skirts and oversized hoodies, but after you get to know James is a bit of a theatric. They like to be over dramatic but only in light hearted situations. James tries their best to be kind, but sometimes they can be moody or come off as rude. James also is generally perceived as a grouchy person.
Talents: Talents acquired from their godly parent is accuracy in archery and their dramatical performances. James also has an in depth understanding of vehicle engines, taught to them by their mother.
Flaws (at least three):Their scar (explained in notes), and excessively freckled arms and torso is their physical flaws. Other flaws of James is that they are naive, and very short tempered.
Weapon (Celestial bronze/Imperial gold): James uses a compound bow and celestial bronze arrows
Abilities: Chromesthesia (a genetic defect that makes it so colours have sounds and vise versa. Yes, this is a real thing), and good accuracy with a bow (not as good as hunters obviously, but still pretty good for a first timer.)
Powers: N/A
History: James had a fairly simple life with few people in it. There was his mom, Rowan, and the occasional friend who didn't judge him. James' mother was often away from home weeks at a time because she worked in the oil fields up north, so it was usually just Rowan taking care of him. James and Rowan were as close as siblings can be, they did practically everything together. Although Ms.Lemanski was hardly ever around James still has a strong relationship with her. In school, James had always been a theatre kid. His passion for dressing up and changing character had made it easier for him to get through the school year. James had been crossdressing since he was 8, he never really understood the whole gender concept and always loved wearing his sister's clothes. This worked out good because as a small income family buying clothes in both genders added up. Eventually James was tired of having to correct people that he was a boy so he eventually just started going by either pronoun.
 James decided the the whole pronoun thing when they were eleven. Seeing as they were not that powerful of a demigod their scent was weak and monsters never noticed it until he turned 15. A satyr had showed up at James' house to convince him of Camp Half-Blood, and James being the naive person he was believed the satyr after he showed James a couple of magic tricks with the pipes. Apparently it was the satyr's first mission and ended up getting James lost in the woods for two days. They had been attacked by multiple creatures but eventually made it safely to camp.
RP Sample (required for first form): (See Ember Tavolk's form for RP sample)
Notes: James had received her scar when she 11. She was with Rowan at the time when their truck hit the ditch. The crash was minor and not what gave James the scar, it was when the towing cable of the tow truck snapped under high tension and hit James in the face. The scar starts on the left side of her neck, it then goes across her neck and along her jaw on the right side of her face, the scar ends halfway behind her right ear.
Weaknesses:  James is deathly afraid of water, anything deeper than your average bathtub is out of the question when it comes to James. They also never give people second chances, once they cross the line their trust goes out the window.
Pets: N/A
Likes: Theatre, french fries, the band 'System of a Down', reading, and the colour teal.
Dislikes: Open spaces, and being without their sister (acting on a stage is different though) and math
Hobbies: Reading, acting, and making crafts
Dream job: An actor
What do they want the most in life right now?: To be respected as a human being and not be labelled by gender stereotypes
Secrets:
Worst fear: Deep water
Ideal boyfriend/girlfriend: They aren't really sure. Someone who enjoys cuddles and crafting
Insecurities: They feel like they embarrass Rowan and their mom for being the way they are.
Former/current relationships: Never dated anyone
How parents met: At a poetry cafe. Amanda was performing a piece written by herself when she caught the eye of a handsome man (Apollo).
Time in camp (Greeks)/the Legion (Romans)/Hotel Valhalla (Norse): This will be their first year at CBH.